About Us
Ever wonder what the royals eat in Asia? At Empress of China, we treat every customer like royalty; enjoy high-quality Asian-inspired takeaway that is full of amazing Asian flavours. Try one of our delicious Chef's Suggestions, like Chicken Fillet with Snow Peas, Rainbow Steak, or Satay Squid. Our Pennant Hills Road restaurant, in Carlingford, also has many classic selections, like Szechuan Beef and Orange Chicken. No matter what you're craving, find it at Empress of China!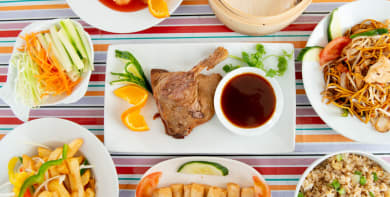 Reviews
34 reviews
nicoleeeo
"Always fresh and yummy food! The only place I get Chinese from."
5/09/2020
Stephanie
"Delivery was only slightly late & I got a text to let me know it was on the way. The 10 minutes wasn't an issue."
24/07/2020
Linda
"Very good service. Food was delicious."
10/07/2020
Menu
Satay Chicken Skewers (4)
$11.00
Salt Pepper Chicken Wings
$16.00
Spring Rolls (6) (vegetarian or Pork)
$7.50
Salt and Pepper Pork Ribs
$19.00
Pork Fillet in Plum Sauce
$17.50
Szechuan Pork Fillet (hot)
$17.50
Pork Fillet with Vegetables
$17.50
Crisy Fried Pork Fillet in Plum Sauce
$17.50
Pork Fillet in Chilli Sauce
$17.50
Pork Fillet with Peking Sauce
$17.50
Scallops with Black Bean Sauce
$26.00
Scallops with Ginger and Shallots
$26.00
Lamb Fillet Black Pepper Sauce
$19.50
Lamb Fillet Ginger & Shallots
$19.50
Mixed Vegetable Chow Mein
$16.50
Noodles with Ginger & Shallots
$13.00
Satay Beef with Rice Noodles
$17.50
Beef / Chicken Fried Rice
$13.50
Nasi Goreng
Malaysian special fried rice
$14.00
Beef & Pineapple Fried Rice
$13.50
Empress Special Fried Rice Large
$12.00
Empress Special Fried Rice Small
$11.00
Crab Meat & Sweet Corn Soup
$7.00
Combination Short or Long Soup
$16.50
Chicken & Sweet Corn Soup
$7.00
Sweet & Sour Sauce (Per Bowl)
$1.00
Choy Sum with Oyster Sauce
$15.50
Vegetable & Chinese Mushroom
$16.50
King Prawns with Black Bean Sauce
$25.00
King Prawns in Plum Sauce
$25.00
Szechuan King Prawns (Hot)
$25.00
Salt and Pepper King Prawns
$25.00
King Prawns with Vegetables
$25.00
King Prawns with Ginger and Shallots
$25.00
Fried King Prawns with Peking Sauce
$25.00
Beef with Black Bean Sauce - Beef
$17.50
Beef with Black Bean Sauce - Beef
$17.50
Sizzling Fillet Steak BBQ Sauce
$22.00
Fillet Steak with Satay Sauce
$22.00
Fillet Steak Chinese Style
$22.00
Black Pepper Fillet Steak
$22.00
Chicken with Black Bean Sause
$17.00
Fried Chicken with Peking Sauce
$17.00
Sweet and Sour Fish Fritters
$19.50
Salt and Pepper Fish Fritters
$19.50
Honey Pepper Chicken Wings
$16.00
Salt & Pepper Chicken Wings
$16.00
Seafood Spring Rolls (6 Pcs)
$9.00
Contact Us
Find Us
318 Pennant Hills rd, Carlingford, 2118
We deliver to
2117 Dundas Valley, 2117 Oatlands, 2117 Telopea, 2118 Carlingford, 2121 Epping, 2125 West Pennant Hills, 2151 North Rocks